Dinosaur Valley State Park w/ @jensap 🥾🎒🦖
Always a blast to work out with these guys in the gloom. 🇺🇸🏃‍♂️🏛
Yuval Levin: The shift is evident in what the report, like a great deal of other social science in recent years, describes as a mix of good and bad news about American society. The good news is that some of the most troubling social trends of the second half of the 20th century have been abating in our time. Last year, for instance, the U.S. divorce rate hit a 50-year low.…
Three reasons I'm thankful for the library at The Center for Christian Study
Veteran's Day reflection from Jason McCarthy 🇺🇸
The Other Side of Bothsidesism
Christ is the End of the Law
Class 1 / Class 2 Problems
Exodus
To Join the New Thing
I Don't Want a Metaverse HT @Cheri

Supply Chain Silver Linings
The slab and the permacomputer
Restorative cities
Dead Subjects
Iain McGilchrist on the coincidence of opposites
I think I'll regularly revisit these words from Fr. Stephen Freeman to read, mark, and inwardly digest them.
Stalacpipe Organ, Luray Caverns
The World Wide Web Is Woven Out Of Threads Of Glass
Our Anger Problem Is Making Me Angry
bad dispensations

Words from St. Isaac of Syria
IoT Hacking and Rickrolling My High School District
a brief note on narrative
Adversity: Death by a Thousand Cuts, or Practice for Greatness
All I could think of was Buddy Christ from Dogma's "Catholicism Now!" when I read this from Giles Fraser:
St Michael's Church in Bournemouth had renamed itself St Mike's "in a trendy rebrand to entice young people". … The Vicar there, Sarah Yetman, has a tough gig and all power to her elbow for trying to turn things around. "We aren't trying to alienate anyone by changing the name" she explains, "But I do feel that if we don't take steps now to draw people in from those younger generations we will be lamenting what we have missed in the years to come."
Jeffrey Bilbro's piece about staying sane in a mad time crystalizes some thoughts I've had for a while.
trainings
In grey city spaces, a greener future is growing
Magic Mushrooms (HT @ReaderJohn)
indices
Build a Bridge
I've come to think the reason Gamaliel, Jesus-disbeliever though he apparently was, gets quoted in the book of Acts is that his rationale was commendable. We believers in Jesus, too, have to wait for Judgment Day for God to sort out the wheat from the tares — for God to sift through the ways I and my tribe, "traditionalists" on sexuality, have been more Levite than Samaritan to gay people left for dead along the church's highway to supposed triumph. We have to wait for God to expose the ways a supposedly enlightened "progressivism" has left believers bereft of any way of understanding Scripture as the Word of God for people today and therefore constantly exposed to whatever wind seems to be promising compassion in the here and now, often heedless of its hidden costs. We have to wait, ultimately, for God to bring us all, traditionalist and progressive alike, to see our shared poverty, our common need for God's mercy in Christ. In the meantime, and in spite of spirited urges for mutual anathemas, we're apparently called to "wait for one another" (1 Corinthians 11:33). We're called to wait as long as it takes to maintain our visible unity, our line of direct descent from those who experienced Jesus' transforming mercy firsthand.
Felt like putting one of these bundles together again:
a church in crisis
the Mondragon moment
When Prayers Become Gibberish
Why I'm Fasting From Analogies
The Mistakes We Cannot Make Again
An update So, as I mentioned in this post, I tried a "digital detox" for about 30 days. Overall, I'd say it was a worthwhile experience, one with some surprising outcomes. A bit of housekeeping regarding this space — I gained a newfound appreciation for simplicity during that time. In that spirit, I decided to import all of my "longform" blog posts here and moved the domain name for robertsapunarich.…
Turnstile - "Mystery" —a friend recently turned me on to these guys. it's like the best of 90s hardcore came to give us all a hug in 2021.
Because I know there are some people who watch this space — I'll be going dark here for the next 30 days or so.
EDIT: I'm doing a "digital detox". Apologies if the above was cryptic.
I've loved Scott Snyder's writing for a decade now. His work on Batman is some of the best I've ever read, but over the years, it was disheartening to see him give more and more of his talent to DC's machine. So I am very, very excited to see him go independent again.
Two firsts for me last night: first post-vax concert, and first ever BTBAM show. 🎵🤘
AT ⛰⛰
Jack is brushing up on his distributed systems knowledge. 📚
WITI?: The It Runs Doom Edition
The Dispatch's profile on Chloe Valdary
Installing a home network
Farmers always Worked From Home
Rhyd Wildermuth on leaving social media
Why America Doesn't Really Make Solar Panels Anymore
Waltern Kirn on The Bullshit
Good to hear these guys again. 🎵
evasions and approaches
Supermarkets and Diversity
No Social Media Club
The Case for Small Towns
Intermission: The Green Martyrdom
Ideology and Its Immune Response
The Controversial Right-Wing Position That Homosexuality is Valid.

How the f is there no lighthouse emoji?
📖🏊‍♂️🍺👍
Posting to AO Hard Nocs with F3 Jacksonville and dinner at Cap's On the Water with @jensap have been just a couple of highlights from this week's St. Augustine vacation.
The Church is abandoning its flock
A Piece of New Jersey We'll Never Build Again
Retributive Justice and the Free Will Illusion
American Troops Have Evacuated Afghanistan, but They've Left Their Pokémon Behind
The War on Reality

tales of technocracy
Vegas for Squares
Things We Left in the Old Web
How to Work Hard
My shamefully silent Church

managers and givers
Jon Stewart On Vaccine Science And The Wuhan Lab Theory — I really miss his presence on The Daily Show
Ideological Abandonment and Declining Sperm Counts
Courting the Common Cold
25 Days of Quitting Twitter

"There's not a lot of people in this world courageous enough to not change." — A.B.
🌉🗽💁‍♀️
Thanks to Front Porch Republic for publishing this piece of mine: Fitness, Fellowship, and Faith: Learning Masculinity in a Time of Despair
The Grace Period Is Over (Or Is it?)
Three Arguments About Love
Alan Jacobs on the use of the term, "partner"
Blanched Sun, Blinded Man
The Six Way Fracturing of Evangelicalism — I have a lot of thoughts about this one.

Breaking Ground: Christian Civic Humanism for a World Renewed
The Case for Post-Patriarchal Manhood:
The sexual counterrevolution is coming
Living in the Last Days with '80s Hardcore Punk
The Leg at the Bottom of the Sea
Why Humans Were Born to Ruck

Jason McCarthy 🇺🇸:
BBQ and cornhole and cool kid sunglasses and a boom box you can hear a hundred miles away. You're on the ocean, you're at the lake, you're in your backyard, you're wherever you are in this great big free country of ours. The sun is bright and the sky is blue and you open the cooler and grab all the beers you can wrestle against your chest. You pass them around to anyone and everyone, it's smiles in every direction. This is exactly what summer in America should feel like.

As a dear friend likes to say, live big.

Memorial Day is a great day to be grateful to be alive, and to prove it. I barely knew the difference between Memorial Day and Veterans Day when I was a kid. Americans were not dying in war, which is also a great thing to be grateful for, because we weren't fighting any. Sacrifice simply wasn't at the forefront of our nation's headlines, so it left no impression upon me. That would come much later.

It's not a bad thing that we're fighting more for the Roaring 20's to emerge than we are at war — these things come in cycles. But the time is now for those of us who know the true meaning of Memorial Day — because we live it every day — to build a bridge to those who don't. To invite them to do MURPH, to invite them to your backyard BBQ, to meet them halfway plus a little more.

And when you raise your glass to those who can't be with us, do it with pride in your heart and share why, for you personally, Memorial Day is a great day to be grateful to be alive.

For me it's because I have too many buddies who were too young who are buried in the ground now and I miss them. I feel guilty that I get to live this great life and theirs was cut too short. I hope to honor their sacrifice by leading a good life, but it's impossible to know if you can ever fully measure up to such a calling.

And yet, they would all be the first ones to pass around another beer right about now, and to tell me to live big, so that's what I'll do, and what we all should do.
🌯👍
First sports game since 2019. I have no horse in this race so…go Astros? ⚾️🚀
🎣
📚🌳
The Yelp Guide To American Inequality
"Urbanism" Isn't Synonymous with "Big City"
The Cross and the Machine

As Charlie Cooke notes, some seem to lament the CDC's new mask rules precisely because they will no longer have the convenience of seeing masks as shorthand for "people I hate." The debate now is "how can we tell if someone was vaccinated?" as if this were a hugely important question. "The next question is going to be, 'How will we know if someone has been vaccinated?'" asked Dr. Michael Osterholm on Morning Joe. "If you're sitting close to someone at a restaurant or … in a theater, how are you going to know that they're not just kind of fibbing?"

My own response to this is, basically, I don't care. I'm vaccinated. My family and friends are vaccinated. I'd like the people sitting next to me to be vaccinated too—for their sake. But I really don't care very much, because even if they're contagious, I'm extremely unlikely to get COVID. And if I do, the symptoms are going to be mild. That's what the science says. And to borrow a phrase, I believe The Science.
Taken with binoculars and a phone.
Jack is ready to ruck. 🎒🐈
The Dream of the Rood
Singing Hymns Alone
Be Not Afraid
Why is this interesting: The Board Shaper Edition
Love as Impassibility
A New Guild System
Grace Olmstead on rootedness, conservatism and what a consistent life ethic looks like
The Instagram ads Facebook won't show you

Exploring Annapolis.
From the F3 Cville CSAUP 5/1/21 🏃
Currently listening
🎵
Opening a Small-Town Bookstore During the Pandemic Was the Craziest Thing We Ever Did
The Faustian Fire
A Law of Deceleration
Annoying Connoisseurs Make Things Better for the Rest of Us
I can't stop listening to this — Michael Olatuja feat. Regina Carter "The Hero's Journey" 🎵
bet y'all thought I was joking
Recovery dinner after 9 miles of rucking, running, burpees, and other completely stupid and utterly pointless workouts with 40+ other men on Saturday morning. 🏃🎒💪🏻🍔
Let us Feast!
On Good Parties
Over 2,000 People Pack NYC Park For Hardcore Show Headlined by MADBALL
Asebeia? An Outsider's Claim on the Classics
Does Anyone Read the Law?
Jack's a Real Gamer Cat™️. 🎮
Environmentalism, the Tower of Babel and the Disintegration of Culture | with Paul Kingsnorth
Howard University drops its classics department. Cornel West calls it a "spiritual catastrophe."
My Inequity, Your Inequity
A Sinner God Calls a Saint
Books you shouldn't read in public

Guess who's gonna make out with strangers at Outback Steakhouse happy hour (in two weeks people don't freak)
The Great Unsettling
Everyone loves their dog.
The virtues of masculinity
The song machines
Self-Government Starts at the Front Porch
Is There Too Much Military History?
The Question That Dictates How Christians Approach Culture and Politics

Under the spreading walnut tree
Beer Is Proof
Resurrection Isn't Reversal
Jurassic Park Is Frightening in the Dark
O Virtue, Where Art Thou?
Behind the Black Umbrellas
Return to Ohio: Money & Anxiety in Loser-takes-none America
Rooting for the Future

Save The Last Dance: Rough Cuts, Tony Hawk, And The End
Why is this interesting? - The Drum Machine Edition
Larry McMurtry and Wendell Berry at the Dairy Queen
He Descended to His Enemies
The Future of Remote Work is the Opposite of Lonely
How to think Bayes
On Forming a More Perfect Union
Should We Begin to Reconnect?
Did You Kill Anyone?
Why is this interesting: The Urban Manufacturing Edition
From the Soil Up
The 50/50 Problem: How the Internet Is Distorting Our Reality
strategy and vocation
How Polarization Ate Our Brains
What Is Freedom For?
Nitro Edition: None of This is New

From Mary Harrington over at Unherd: We've paid steeply to control this virus. The price has not just been in government borrowing but in the tattered warp and weft of our common life. Maybe the price has been worth paying: even under lockdown, a staggering 126,000 UK citizens died within 28 days of a Covid test over the last year. But the cost has been unfathomable as well, both individually and collectively — and it has not been evenly borne.…
New blog — The Necessity of Bodies: Redux
Isolatos
I have become more and more suspicious of the concept of the nominal Christian
powers and demons
Atticus, Scout, and the Gift of Children
Why I kissed blogging goodbye
The Promise and the Failure of WandaVision
The Doctrine of Grace vs. the Disposition of Grace
The internet didn't kill counterculture—you just won't find it on Instagram

After 20 years apart, you don't look so bad, Florida.
Enjoying the Low Country and Savannah. This place feels enchanted and haunted.
Charleston is neat.
Well, this is what happens when I neglect to post my link dump for almost two weeks.
Mapali — Rune Soup
Third Places and the Horizons of Male Friendships
Peacemaking Is Political
To Save the World from the Church Basement: On Christian Humanism
A New Progressive Era?: A Conversation with Robert Putnam and Shaylyn Romney Garrett
Forming Redemptive Communities Outside the Digital Public Sphere
Pasolini's Lutheran Letters and Our Times
Do We Absolutely Disagree?
Life Outside the Camp: Cancellation, Purity, and Public Space
You Can't Censor Away Extremism (or Any Other Problem)

Happy fourth anniversary to my beautiful, hilarious, joyful, and faithful wife @jensaplin. ❤️ Thanks for all the memories, and for keeping better records than I do.
"Schitt's Creek" & Local Economic Power
The Spiral of Violence
I'm a philosopher. We can't think our way out of this mess.
Toward the Renewal of Humanistic Education in America
Words and Flesh: Pastoring in a Post-truth World
two quotations on technological impermanence (plus commentary)
Sentimental Hygiene
Growing Up 02/24/21
the warming center
The "Majority-Minority" Myth
Take me back to the canyon
"He Devises Means So That the Banished One Will Not Remain an Outcast": Salvation and Divine Resourcefulness
On sitting out the new culture wars

Currently enjoying Nick Cave and Warren Ellis's CARNAGE. Can't wait for the physical release.
My friend CJ Green recently published his fiction debut!
This video is probably the most Orange County thing I've watched in a long, long time. Maybe it's the pandemic, or the icy winter we've been having here, but, much as I consider VA home now, watching this made me a little homesick.
Persuasion Is For Amateurs
A New Day for the Neighbourhood - Part 1
Education and Democracy in Disembodied Times: Emerson and Dewey on Humane Technology
Paul, our contemporary
Felt good to do this again.
Recommended reading (experimenting with posting stuff I've read over the last week-ish so as not to create a linkstorm)
The Front Porch and the American Dream
presentism and the Present
Ewok Banquets and Hobbit Joy
Influencers will survive Covid
Irreplaceable
Gratuity: Who Gets Paid When Art Is Free
America Drawn Inward: Assessing Bowling Alone at 20
The Jewish Space Laser Agency responds: We didn't start the fire
Human Interaction: The Most Essential Business
New blog: Why we need bodies to heal our body
The strange, new circumstances of 2020 entailed a number of strange, new behaviors — "social distancing", wearing masks, working from home, "toobin" (for some). I think I uttered the phrase "public health" more in one month than I had in my entire life until March 2020. Suddenly, my blissfully unaware self was inundated with a string of strange, new directives, necessitating strange, new thoughts and behaviors. Of course, the strange, new thing was a little understood, highly contagious virus that was spreading rapidly.…
Vibes
So @jensaplin insists this meme is old, but I saw it the other day and can't stop laughing. I apologize for populating your feed with old memes.
A brief devotional/sermonette I wrote is now up at Mockingbird: Technologies, Ancient and Modern
Justin Giboney on the necessity of biblical peacemaking in the struggle for political and racial justice.
Noah Van Niel: Manly Virtues — There's some really good stuff in here that I've been mulling over for a while.
I aspire to be as impressionable as Bernie Sanders at a presidential inauguration. 🇺🇸
Between the President quoting Augustine and a prayer from an AME preacher, I would guess this is the most theologically eclectic inauguration ever. 🇺🇸
I wrote up a few thoughts over at Mockingbird reflecting on some ideas about wrestling from @ayjay and Esau McCaulley's new books.
I wrote up a list of my favorite reads from the second half of 2020.
Happy New Year! It feels like it was both so recently and so long ago that I wrote up my list of favorite reads from the first half of 2020. Going forward, I think I'll write one of these entries quarterly, if only for the fact that it's easier to summon thoughts about something I read three months ago, rather than six. S.A. Cosby, Blacktop Wasteland —— When I wrote the previous "favorite reads" list, I was in the middle of reading this southern noir and so badly wanted to include it.…
There's no shortage of thinkpieces circulating about evangelicalism and "Christian" nationalism right now, but this one from Funmi Ojetayo at The Front Porch might be one of the best. I encourage you to read the whole thing:
The raging mob of January 6th think themselves revolutionaries, restoring America to its greatness. But what we saw was less a noble cause and more the wickedness of a tyrant and those who bow to him. Besides, the medicine for our national malaise is not revolution. Revolutions – cultural, sexual, political – have proven inadequate to meet our deepest need. We need revival and renewal; we need a new awakening.

But since so many of our national leaders, political and religious leaders, have failed us, from whence shall this revival and renewal come?

The local church.

Much has been said and written about how white evangelicalism is in thrall to the GOP, but the data actually shows that most of the partisans and so-called Christian nationalists we see in the public sphere are not regular attendees of the local church.[i] They are cultural appropriators of Christianity at best, and outright charlatans at worst. The numbers bear out the fact that most regular church attendees, who routinely sit under sound preaching and teaching, are far less partisan, are more engaged in their community caring for the poor, the alien, the widow, the orphan, the disenfranchised, and the marginalized, more frequently interacting with different ethnic groups, and readily engaging in the work of racial reconciliation.

I submit to you that revival will not come from the top, but, as is fitting for the upside-down Kingdom of God, it will come from the groundswell of local, Spirit-empowered churches and pastors working for renewal in local communities throughout this nation. It is within the local church that we can shape virtuous people, a characteristic our Founding Fathers recognized as indispensable for self-government. It is within the local church that we grasp the meekness of Christ and its winsome power. It is in the local church that we learn to be reconciled to one another, because the gospel of reconciliation pulls down dividing walls of hostility and brings previously warring factions together into one family. It is in the local church that we learn unity even amidst diversity, for there is neither male nor female, black nor white, Republican nor Democrat, but all are one in Christ Jesus, co-heirs according to promise (Gal. 3:28-29). It is in the local church that we form and conform the hearts of our people away from earthly powers, and instead toward King Jesus, away from donkeys and elephants, and instead towards the Lamb who was slain for us.
Abandoned structures from around Charlottesville's Woolen Mills this morning.
Texas was nice. Here are some photos.
Slightly emotional. Thank you TX for bringing me a taste of CA.
Farm cat
Happy birthday to @jensaplin! I'm blessed beyond deserving to have you as my wife, companion, and friend. You've graced the earth with your presence for 30 years, and it'll only be the better to have you for 30+ more. I love you my star-stuff.
Great day celebrating 30.
Post-Xmas dinner vibes. 📷 credit: @jensaplin
The amazing @jensaplin knows how to give good gifts.
Cville beers rarely disappoint. Windswell Hazy DIPA from Random Row Brewing.
Freddie deBoer on self-styled "COVID realists"
xkcd sees me.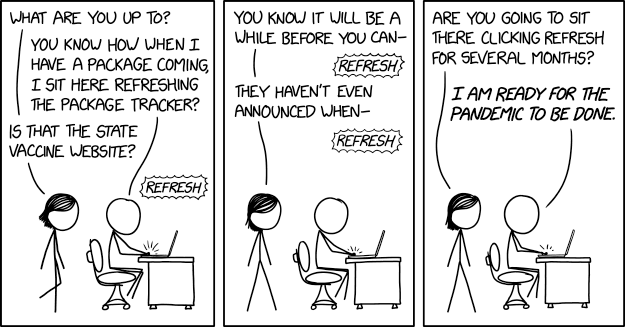 Mood. 📷credit: @jensaplin
Icicles from yesterday's storm.
John Gardner's 'Cruisin' Across America' | OJ Wheels - If I had to guess why I'm so drawn to this, I'd say it's because it showcases Southern California and the east coast, both places that I've called home.
Grant Snider - The Inward Spiral
My friend Zack wrote some great thoughts on mental health, OCD, and God
The Kitchen Sisters - Hunting and Cooking with Angelo Garro
John Berger: How to Resist a State of Forgetfulness
Richard Hughes Gibson: In Search of Charitable Writing
💁‍♀️🧔❤️🎄
John Inazu at The Hedgehog Review: This pandemic season has forced on many of us the painful absence of face-to-face relationships. When we are once again free to pursue these embodied relationships, we might discover that they also represent our best antidote to the information virus: other human beings who force us to confront complexity rather than caricature, and who challenge us to maintain friends, not just followers. But antidotes, like vaccines, don't always come easily. They take work, risk, and perseverance
Current listening: TOOL - Fear Inoculum
Thankful for this amazing woman, and her cooking skills too. 🦃
Halp
My friend Zack recently built a dungeon generator in lieu of nanowrimo, and did a little write-up about it. I cloned the repo for it with the best intentions of contributing, but alas can take no credit for what he's done here. Pretty neat stuff.